This article was written by Baterra1202 . Please do not edit this fiction without the writer's permission.
Eeyavin is a Toa of Rahi Control and a member of Chronuva's team.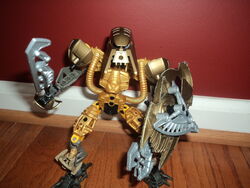 Biography
Edit
Coming soon...
Weapons and tools
Edit
Eeyavin wields a longsword and a double-sided dagger. He has recently lost those weapons, and later gained a Terrorthirst Launcher and a Tactical Shield. He wears the Kanohi Kualsi, Mask of Quick Travel. With his power over Rahi Control, he can summon and control animals.
Appearances
Edit
He is the only Toa of Rahi Control who has ever fired a Nova Blast.
He accidentally awoke Sarkanian.
His name is based off Yavin 4, the name of a Star Wars planet.