Volderon is a
voidwraith with a currently unknown orgin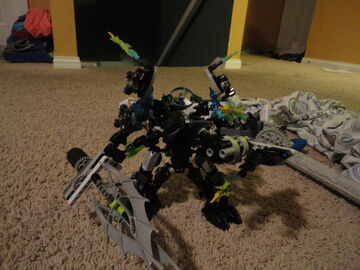 Volderon is a void wraith whose body cosists of pure emptiness, which allows him to regenerate after being destroyed. this also causes antimatter to pass right through him.
Volderon can alternate between forms (greater and lesser) at will-
Can make his armor, weapons and mask appear and disappear at will-
Void-
Antimatter-
Shockwaves-
Portals-
Telepathy-
Flight-
Teleportation-
Supreme will-
Shape shifting-
Light/radiation and/or Shadow depending on light level-
Rapid regeneration-
Ultra rapid recharge- for all his powers,
Legendary strength- (greater form only)
Immunity to life and death powers-
Armageddon blast- uses all of the user's energy to fire something similar to a nova blast of all of the user's powers.
Semigeddon blast- similar to an Armageddon blast but uses half the energy.
Speed-
Abilities and Traits
Edit
Volderon uses a large variety of weapons, some he has to wield two-handed or in his greater form, he cannot use all of the weapons at the same time though. 
| | | |
| --- | --- | --- |
| Name | Description | Current form |
| ultra-blade | A whirling blade of disaster and destruction that can spin 100 times more powerful than an F5 tornado and is an unending source of whatever the wielder's power is. Can use the user's power to make the blade stretch longer, hitting people farther away. The blade is not hampered by being underwater. The blade is an instant kill for everyone but the greatest of beings. | greater |
| clone missiles | Medium damage homing missiles that constantly clone themselves if they can do it without hitting another clone missile. | greater |
| enlightener | An insane gatling gun that spins almost three times as fast as the ultra blade and can fire various types of energy. Uses various ammunition. | greater |
| dark-staff | A black staff with an indefinite supply of void energy. |  lesser |
| dual void and energy shields | Silver shields that can fire energy and void attacks and create an energy field around them selves, making the shield bigger. |  lesser |
| shield of fate (coming darkness edition) | A sharp-edged shield that can fire huge amounts of energy and void energy. | lesser |
| ImEx spinner | A rhotuka that on contact starts sucking in everything nearby and then blasting everything out at tremendous speed, at minimum power it can ruin someone's bedroom, at full power it can destroy towns. | greater |
Volderon's nickname is Shockwave due to his ability to fire shockwaves.
Ad blocker interference detected!
Wikia is a free-to-use site that makes money from advertising. We have a modified experience for viewers using ad blockers

Wikia is not accessible if you've made further modifications. Remove the custom ad blocker rule(s) and the page will load as expected.